Click on pictures for full size view!
If you looked very closelyyou could see the bats clinging to the roof of the cave. The swells of the sea heaving under the boat causes a little concern as we are thrust up toward the roof of the cave, even though we've done this many times before. At just the right point in time, the skipper guns the motor and shoots the skiff, and us with it, into the emerald green waters just beyond...
---
LAX - the adventure begins

Los Angeles International Airport (LAX) is one of the world's busiest airports. Usually we try to avoid flying here but since we are crossing international boundaries today, our options are severely limited. One good benefit of flying LAX is that parking is not as expensive as other nearby airports.
We have been using Wally Park for several years now and have never been dissapointed. This is a private, nearby parking facility that is well guarded, indoors, and offers good rate. With our AAA discount, it was less than $7 per day. Car washing, detailing, valet parking, and padded (really!) parking stalls are also available at extra cost. Free airport shuttles get you to your gate in minutes.
The Tom Bradley International terminal at LAX is a massive place that usually is very crowded with travelers coming & going. However our airline, AeroMexico, had recently moved over to Terminal 5 where the crowding is much less severe. We check in with a minimum of problems and head over to our gate to wait.
We were to wait quite awhile as first the arriving flight was about 20 minutes late. In turn, this caused our flight to lose it's spot in the airport que and we were further delayed. Finally, after a 1.5 hour delay we were leaping off of the runway and headed to Mexico.

The pilot, trying to make up for lost time, put the pedal to the metal and we made up 1/2 hour in the air. After a 2.5 hour flight, we arrive in PV just after 6:00pm local time. Gustavo Diaz International Airport, Puerto Vallarta's airport, has been updated since our last visit. In the past, we would have to deplane via stairs onto the tarmac. This is when it would hit you...the intense, steamy heat. I would be soaked by the time I hit the bottom of the stairs.
---

Frommer's Portable Puerto Vallarta, Manzanillo, & Guadalajara only $7.96.
Please visit our sponsor
---
This trip is different because there are now 4 new jetways into the terminal. We leave the plane straight into the air-conditioned comfort of the terminal. Jr.'s wheelchair is waiting for us in the jetway.
Going through customs in Mexico is unique. There is signal, just like a traffic signal, with a button on it. You press the button and the light randomly lights up either green or red. Get a green light and you're through customs and on your way. A red light means your bags will be searched first. We're in luck today...we get a green light and instantly clear customs. Total time to clear immigration, customs, and claim our bags...10 minutes.
Once we're done with the formalities of entering another country, we make our way out to the front of the terminal and secure transportation to our lodging from the taxi stand. There, you are sold a ticket good for a one way trip in the taxi of their choice. Since there is a monopoly of sorts at the airport (normal roving taxis are not allowed to pick up passengers here), there is a bit of sticker shock on the cost....$27.00 US. In a week the return trip from our condo would be less than $7.00 US.
The taxi ride to the condo is about 15 minutes. We stayed on the south side of town which is the complete opposite side of town from the airport. This would be a good spot to present a few notes on lodging in Puerto Vallarta.

Where to Stay in PV?
PV proper can be broken down into 3 distinct zones: The north end of town (the Marina or airport area), central part of town, and south of town. The north end of town is where all the really big tourist hotels such as the Krystal and the Sheraton Bouganvillas are in the Marina development. The hotels here are nice enough, but this area is really geared strictly for tourists and leaves you outside of the good parts of town and away from the best beaches.
The central part of town, downtown, is really where PV charm sparkles with the classic red tile roofs, flowering vines everywhere, and cobblestone streets. It's where the Rio Cuale meets the ocean and beauty abounds. Hotels here tend to be much more budget oriented. Our favorite here is the Molino de Agua, a beautifully landscaped paradise set on the point where the river meets the sea. Other hotels in this area are, such as the Hotel Rosita, are perfectly adequate and cheap...but by no means luxurious. The beach here, Los Muertos, is PV's most popular but the water is not clear. Rather it's kind of murky like you would find on most Southern California beaches.
The south end of town has a distinct riviera feel to it as many fine homes cling to the jungle shrouded hills over the ocean. Accomodations here tend to be small and luxurious although there are a few big properties such as the Camino Real and La Jolla de Mismaloya here too. Prices tend to be a bit more expensive here but are still a bargain compared to American prices. The beaches here are among PV's best with crystal-clear, warm water and great snorkeling.
It is along this south coast that we prefer to stay, with downtown being our second choice and we generally stay away from the north end.
We are lucky enough to have a friend who owns a couple of time shares at the Lindomar Adventure Club and were able to rent a 2 bedroom, 2 bathroom oceanfront condo for $500 per week. Now we realize very few people will get a deal like this but a quick research of the web reveals plenty of equally nice condos in the area renting for $400 - $1000 per week. Particularly intriguing is the Punta Negra resort and the Hotel Playa Conchas Chinas.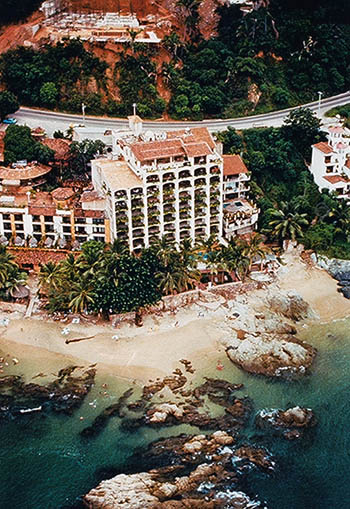 The Lindo Mar Adventure Club

---
We arrive at our destination just as the sun is going down. We're not very hungry, so we just head down to the beachside bar for some appetizers and drinks. Our first big discovery is made here...the best chicken wings in town are made right here at our condo at Lindomar. Truly delicious, we enjoy them before retiring for the night.
Our room is actually a suite of rooms with 2 bedrooms, 2 bathrooms, 2 patios adjoining the beachside pool, a kitchen, dining room and living room. Your money buys you so much more down here. It easily accomodates the six people in our party splendidly: myself; Mrs. Webmaster; Webmaster. Jr.; Mrs. Web's mom; and her brothers Ruben and Amaury. We take one bedroom, mom-in-law takes the second, and the guys bunk out on the twin beds that the couches in the living room convert into.
Sunday dawns and we're ready for the beach...Mismalyoa beach. Arguably Puerto Vallarta's most famous stretch of sand, this beach is actually 7 miles south of the town proper. It was here that John Huston brought Richard Burton and Ava Gardner to film the seminal "Night of the Iguana". Elizabeth Taylor accomanied Burton here, carried on a torrid affair that lit up the tabloids...and put Puerto Vallarta on the map!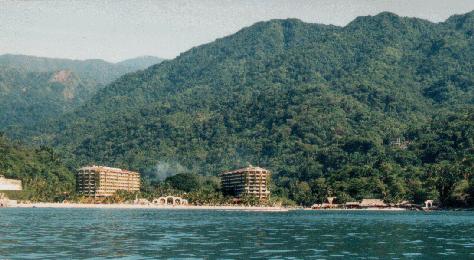 Today, it is guarded by the twin towers of the ultra-plush La Jolla de Mismaloya hotel. The ruins of the movie set...now a restaurant and bar...are still there. The hotel dominates the beach, it's visage covering a good 2/3 of the bay and a healthy stretch of sand is off limits to all but registered guests. The other third of the beach, across the mouth of the little Rio Mismaloya, is home to an odd collection of mom & pop restaurants that serve fresh food & drinks to beachgoers. The lagoon at the river's mouth is home to a fleet of skiffs and fishermen. Trouble is brewing between the two sides of the river, but more about that later...
We take the bus from our condo at Conchas Chinas beach to Mismaloya. The current fare is 2.5 pesos, about 35 cents. We head down the access road along the south wall of the hotel to find that the old wooden bridge over the Rio Mismaloya has been dismantled and a new one is being built. We portage Jr. & his chair over the river's mouth to the palapa (non-hotel) side of the bay and stake out some good hammock chairs in front of Arturos's restaurant. Arturo opens up a tab for us (restaurant owners here will gladly let you use their chairs & hammocks in return for your business) and we order breakfast on the beach.
After a few flap-jacks & eggs, we head out into the warm waters of the bay to test out the snorkeling. We see many colorful tropical fish along the rocky edges of the south side of the bay and quickly float out to the bay's edge. The water is bath-water warm. At times, it even feels a little too warm. I head back to the beach. Jr. and me play in the waves and let them crash over us, filling our trunks with sand.
This is how the day goes, snorkel a little, swim a little, order a few more Coronas, splash in the waves, and then do it all over again. Other than a burn on my back (I forgot to put sunscreen on there) and some mosquito bites, the day is nothing but fun. We catch a bus back to Conchas Chinas and get ready to head into town.
We head into town and take a long walk along the Malecon, PV's version of a boardwalk, and then head over to Cenederia Ene...a small, family run eatery that serves delicious Mexican food at bargain prices. I had a platter of gorditas (about $2), my wife had a bowl of pozole and Jr. had a burger. All about the same price and delicious.
It's very spartan but clean and bright. Your entertainment consists of spanish movies on the TV.
After dinner, it's time to go grocery shopping at the Guitterez Rizo supermarket. Since we have a kitchen, we decide to stock up on groceries and make some of our meals and drinks in the condo. Prices here are about the same as in the states. Laden down with groceries, we decide to spring for a taxi back to the condo.
This is when we notice big discovery #2...all the big taxis are gone now, replaced with small Nissans that won't hold six people. We have to hire 2 taxis to get us back to the condo. Come to find out, this is planned. The driver tells us that PV is getting rid of all the big taxis in favor of the small ones in an effort to generate more fares. PV is growing up and developing ever more each day...I don't know that I like every development though.

---
Please visit our sponsor
---
---
Monday finds us sleeping in and spending the day at Conchas Chinas beach directly in front of the condo. After a home-cooked breakfast of ham & eggs, we head out to the beach. Since our condo is on the beach, we're able to just leave the patio door open for quick forays to fill up on rum punches and beer.
The water this day is a little murky and the snorkeling just adequate. We turn instead to frequent swims in the warm water of the Pacific alternating with cool dips into the beachfront pool. The heat & drinks work their magic on us an after a few hours, we switch off into siesta mode for the afternoon.
After waking, we head over for one of the highlights of our trip.
One of the main reasons we like to stay at Lindomar is that it's right next door to our favorite restaurant, El Set. This is truly not just PV's best restaurant, but one of the world's great dining spots. A meal here is superb (click on the link above to go to their web site and check out the menu). My favorite here is the Selva Negra (Black Jungle in english). This is a truly superb and tender filet mignon covered in a champagne walnut sauce. It is mouth-watering, melt-in-your-mouth, truly delicious food. It's served with a baked potato along with fresh vegetables. Mrs. Web enjoys the Mocajete Tlaloc, a concoction of pork and chicken served in a melted-cheese broth in a stone grinding bowl with shallots and peppers. This is also a very delicious dish.
This great food is also served in one of the world's most spectacularly scenic spots. The restaurant is outdoors set into terraces carved into the jungle hillside, overlooking the ocean, aimed square at the setting sun...our sunset Puerto Vallarta picture that graces this site was taken from our table at El Set.
We ended up eating here three times during the week and had three superb sunsets. Tonight's actually recieved applause.
The service here is PV's best. Extremely gracious and professional waiters tend to your needs. We come about every 3 years and they always remember us.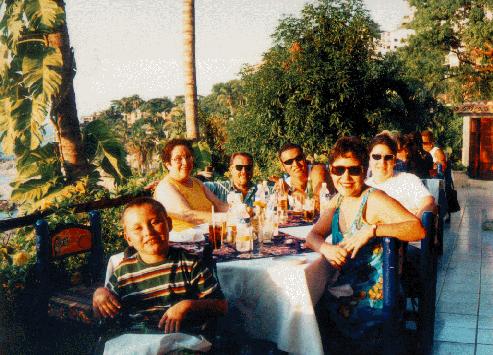 Dining at El Set
Strolling mariachis...not the loud, anxious-for-a-tip kind that you see too often in L.A. but the more softly playing, romantic kind...come by each table. You don't want them, no problem...they take no offense. But you should really take advantage of this tableside entertainment to cap off a perfect meal (20 peso tip is appropriate for each song).
After dinner, we walk back over to the condo and watch "The Usual Suspects" in english with spanish subtitles on a local station. It's funny to see what they substitute in the titles for the sometimes X-rated language (which is played uncut).

---
Tuesday is an in-town day spent shopping and exploring. PV is one of the best places to just walk and take in the local street scenes. It's a very beautiful and interesting place. One interesting stop is at the small archeological museum on the Isla Rio Cuale in the center of town.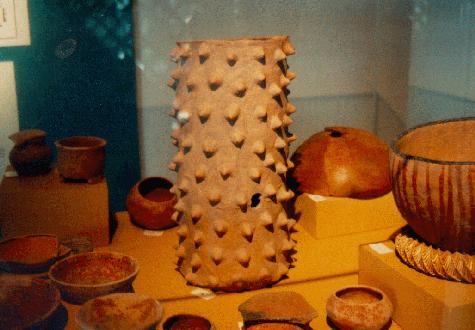 On display here are items dating back thousands of years dug up in the mountains surrounding Banderas Bay. This incense burner is one of the newer pieces...only about 1300 years old!

---
Wednesday is our big activity day of the week. This is the day we head down to Mismaloya to hire a boat. Here you can hire a boat & it's skipper. The skiff can easily hold 10 people, has a canopy, snorkel gear, fishing gear and and ice-filled chest to do with as you please. The price for all this...$25 per hour or $100 per day. This has always been our big adventure when we come to PV and today is no exception.
We find a skipper, Lino, who along with his assistant, Jose, will take us in the good ship "Night of the Iguana". We hire the pair and the boat for the day (you with calculating minds will work it out to $15 per person for the day on the boat). The area to the south of Banderas Bay is Mexico's second largest rainforest with no roads, only boats and very hardy hikers can access it's coast.
There are 3 villages along this coast that cater to tourists: Yelapa, Quimixto, and Las Animas. They're too touristy for us with too many peddlers. We prefer to head to one of the many unpopulated and deserted beaches along this coast. We head to our favorite deserted beach... Majahuitas!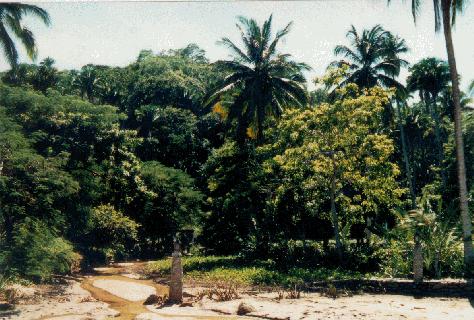 Into the jungle at Majahuitas
Here we make big discovery #3...a kind of painful one...Majahuitas is not the unknown deserted beach it once was. For years, Majahuitas only shared it's sparkling white sand, coconut palms, jungle, and crystal waters with a cabin owned by an absent American owner who never visited her holdings here. Now there is a new resort on the beach, albeit small, the Majahuitas Resort...where you can pay big bucks to stay in one of the 6 cottages cut off from civilization. Others have also found out about this beautiful little bay. On our arrival, a tour boat sits in the bay with about 40 german tourists sunning on the beach. We beach our little skiff and done our gear. Diving into the bay we find the water to be as crystal-clear and warm as ever. The snorkeling in the bay is nothing short of excellent. Jr. and I head into the waters of the north end of the beach to be delighted by the antics of puffers, angel fish, and too many more I can't name.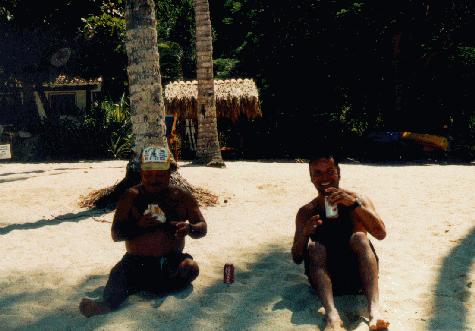 Later we head to the south end to see an even more astonishing array of underwater delights including a swim-through cave and coral. We crack open some ham sandwiches, beer and soda for a picnic on the beach. Lino & Amaury share a moment together during lunch (above).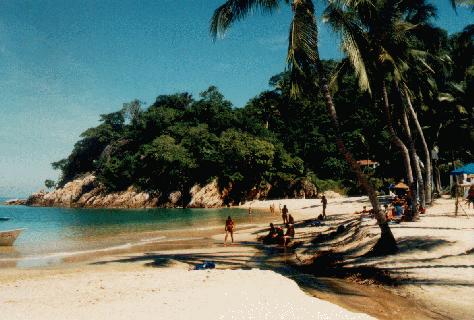 The south end of Majahuitas beach

Trouble is brewing back at Mismaloya. According to Lino, the developers of the hotel there and certain politicians are trying to force the local vendors and boats off of the south third of the beach to make way for more development. The most troubling aspect of this plan is that Mismaloya would become a totally private beach, shut off from the public.

This day, the boat owners are rallying at city hall to try to prevent this plan. Lino is here because he is taking care of the boat & business for his friend who is at the downtown rally. It would really be a shame if PV went this route, effectively killing one of it's golden-egg laying geese. Hopefully some saner heads will prevail.

Back on Majahuitas, Lino tells us he knows of an even better spot for snorkeling just up the coast. After lunch, we pack it up and head out. Lino takes us about a mile north of Majahuitas to an unnamed cove. We are completely alone.

The beach here is tiny, so we anchor offshore and dive in from the boat. Lino is not wrong.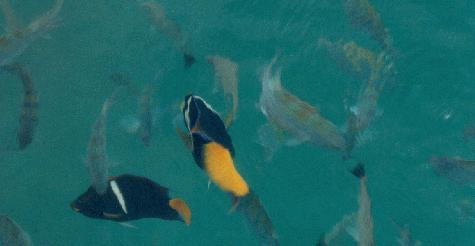 Covering the ocean floor is a carpet of coral as far as we can see. The water is teaming with colorful tropical fish who eat bread crumbs out of our hands. I take Jr. for an extended swim across the bay with Amaury & Ruben. The activity never stops under the water here. Looking closely into the rocks & coral, we see eels, angel fish, trigger fish, puffers, and more. The snorkeling today is among the very best we've ever done, including Hawaii & Jamaica. Those who say there is no good snorkeling in PV need to get out of their hotel & get down to the clear waters of the south shore.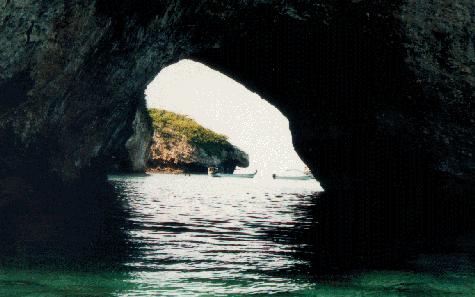 Lino takes us to one more stop...the obigatory ride to Los Arcos. This quartet of offshore rocks is PV's most famous landmark. Wave-worn caves carve through these huge rocks forming the famous arches. This is also PV's best known snorkeling spot with many boats anchoring nearby allowing divers access. Amaury & Ruben take the plunge and swim through one of the caves.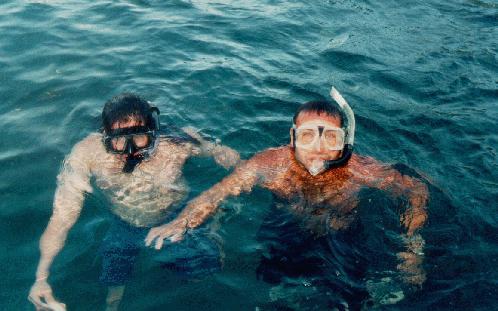 After the dive, Lino takes us on the final boat adventure for the day...a ride through the caves of Los Arcos. This is where we join the first paragraph as we wait for just the right moment in the cresting swells to gun the boat's engine and shoot through the cave. Around us we here the squeals of hundreds of tiny bats. Beneath us, the blues & greens of the clear water flicker in and out of the light. Then, it's back out into the sunlight to do it again.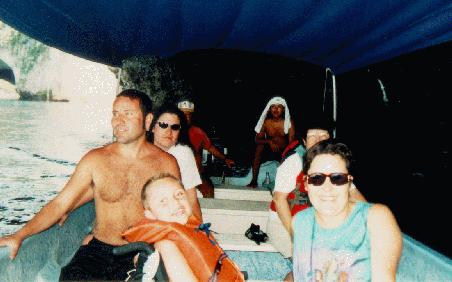 Above us, clinging to the shear sides of the rocks, are dozens of pelican nests. Lino tells us that this is a protected breeding area for the birds. In April & May, the rocks explode with hundreds of pelicans roosting with their eggs.
After the adventure of Los Arcos, it's back to Mismaloya. We end the day around 4pm. Shaking hands with Lino and Jose, we hail a couple of taxis for a quick ride back to the condo.
Back at Lindomar we shower up and rest for dinner. Tonight, we make a repeat visit to El Set and are treated to another exceptional dinner, sunset, and music. We call it a night and head back to the condo to catch game 4 of the World Series before turning in.

---

Pacific Mexico Handbook: Including Acapulco, Puerto Vallarta, Oaxaca, Guadalajara and Mazatlan
Please visit our sponsor
---
---
Thursday dawns calm and we spend this day snorkeling around Conchas Chinas beach. The water is as clear as we've ever seen it here. We make several short dives plus one long one that ends up in our being washed ashore at the Camino Real hotel, about 1/4 mile down the road.
The security guards don't like the idea that we prefer to walk back from here (thus having to go through their lobby) but they eventually relent...we remind them that it's better that we're leaving rather than entering...and we walk back to Lindomar.
The evening finds us dining at Chavas restaurant downtown. The food here is delicious and cheap among some very pleasant surroundings. We are eating from a second floor balcony that looks out over the La Iguana nightclub across the street and the town beyond. Many mariachis come strolling through here, enough to be a minor bother, but we have a great dinner of frog legs and enchiladas.
Amaury & Ruben head off on their own for a night of clubbing while the rest of us head back home.
Friday, the light at the end of the tunnel is starting to grow in intensity. The ladies spend the day shopping in town while the rest of us spend another day snorkeling in the warm, clear waters of Conchas Chinas. One more day on the beach, one more dinner at El Set...one more night to go.

---
Saturday, our last day here. Our flight doesn't leave until 9:00pm. We pack up and leave our bags with Miguel at the front desk of Lindomar (we have to vacate the room by 11:00am) and get a rental car. What we get is a VW Safari (also called a Thing here is the US) without doors windows...or seatbelts!
We head south to Chico's Paradise, one of a number of jungle restaurants in town situated along the raging rivers. We spend a little time here eating a light lunch and head down to the river for a swim. Mrs. Web then notices a small iguana drowning in the river. Amaury jumps in and rescues the little guy who turns out to be quite tame & friendly.
As much as the guys would like to take it home, we instead release it back into the jungle and head out. We spend some more time driving around the countryside until we decide that the car is just too uncomfortable to ride in any more. We drop it off and head back to Lindomar.
Lindomar has one great feature, if your flight is late...like ours...you can use the hospitality suite for the day. This is a suite set aside for guests use on check-out day for naps, showers, etc. We make good use of it as we rest up for our flight home.
Well, now it's early Saturday evening and time to head home. Always the saddest part of the trip, we oblige but know we will return. The flight home leaves right on time, the service is excellent, and we land on time at LAX...only to be held up by ground controllers adding another 1/2 hour til we reach the gate.
Immigration, customs and baggage claim go very smoothly and we return back to our real world here in Southern California. Until next time, we say adios to Puerto Vallarta and ride off into one of those magnificent sunsets...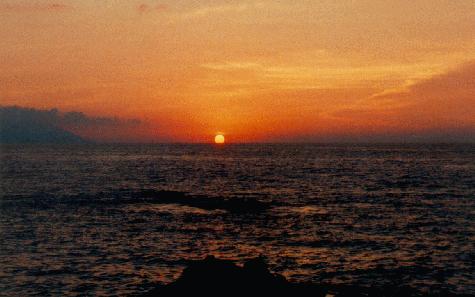 ---
---
Access Information for Puerto Vallarta
Puerto Vallarta, and Mexico in general, is very low on the list for accessibility. Although we have seen some major improvements since our last visit, the ADA just doesn't extend south of the border. That said, you can still have a great trip as long as you know what lies ahead. Please read this section very carefully if you plan on negotiating Puerto Vallarta in a wheelchair:
Usually Jr. uses a Quickie P500 power chair that is very heavy. In this instance, it's much easier on everybody if we leave it home and use his manual chair instead. A folding chair is a big plus here as are companions to help you.
Ramps are very few and far between here in PV. What ramps do exist are very steep. A curb cut construction program has begun and they are starting to be more visible, but there is still a long way to go. Driveways can be used to access sidewalks as well as loading ramps located beside most businesses. The cobblestone streets of downtown PV can be very difficult without help. It will be bumpy in any case. The Malecon (a kind of boardwalk) is the one smooth place to roll here and can be accessed by a ramp at the north end (across from McDonald's).
Airport crews will help deplane you at PVR airport. Your chair should be waiting for you when you exit the plane. Out of 4 trips here, we have never had a problem having the chair ready for us. Once on the ground it is easy to get into the terminal and to navigate freely inside. There is a new access ramp on the north end of the terminal to provide access between floors (there is no elevator here). However, it is in a restricted area and you must be accompanied by an airport staff member, who will be happy to help.
Departure, however, is another story. The international departure lounge is upstairs and there is no elevator. Again, airport crews will help you up the new ramp up into the departure lounge. Once inside you can easily manuever around but will not have access to the shopping area. There are wide stalls in the bathrooms for wheelchairs but no grab bars.
Taxis pose a problem...you are assigned a taxi at the taxi stand. Be firm if your chair doesn't look like it will fit in the taxi. We have had some problems as once a driver is assigned, he hates to give up the fare. Stand your ground and eventually you can be assigned a van or a station wagon. Again, a folding chair is a big plus here as it can fit in most car trunks. We noticed a big increase in large aiport taxis...such as vans and Suburbans...during this trip.
Hotel access is another problem in PV. The only hotel we have come across that is accessible to a degree is La Jolla de Mismaloya, located about 5 miles south of town on Mismaloya beach.
The Molino de Agua is manageable, with just a few spots with one or two steps to negotiate. Hotel Playa Conchas Chinas has many stairs and no elevator making it unaccessible. Lindomar has an elevator and about 1/2 dozen steps to worry about in the lobby. Staff will carry you over the stairs. We haven't found any truly accessible restrooms here but at Molino de Agua and Lindomar they are plenty big enough but no grab bars.
Mismaloya is reached via bus or taxi. Neither option is accessible without help. Taxi drivers will help you (they expect to be tipped for this), bus drivers won't. The taxi will drop you right at the beach, the bus will drop you one block away.
There is a bridge over the Rio Mismaloya, but you will need help with the steps at each end. No accessible restrooms are here, only hotel restrooms (registered guests only) or outhouse-like facilities on the other end of the beach.
El Set is semi-accessible. There are six steps into the restaurant which the staff will be glad to assist you with. Two new ramps have been added since our last trip; one into the dining area and one up to the restrooms and gift shop. All tables can accomodate wheelchairs. The restroom stalls are narrow and do not have grab bars.
Renting a boat on Mismaloya is possible once you've made it to the beach. The crew will lift you and your chair into the boat, most likely one at a time. If you have trouble swimming, ALWAYS wear a life-jacket while on the boat and DO NOT wear the seatbelt on your wheelchair...if you and your chair for some unforseen reason get thrown from the boat, the chair instantly becomes an anchor if you're strapped to it.
The Budget - 2 adults and one child:
All prices are in U.S. dollars and include tax & tips
Airfare
Airport Parking - LAX
Taxi from PV airport to Lindomar
Condo Rental *
$250 - Lindomar (divided in half)
Groceries
$64.31 - Guiterrez Rizo Supermarket
Boat Rental - Mismaloya
Car rental - Saturday
Gas
Taxi Fares during week
Bus Fares during week
Taxi back to PV airport
Mariachi tips
$30 (12 songs total all week)
Dinner Saturday
Lunch & Drinks on beach Sunday
$48 - Arturo's on the Beach, Mismaloya
Dinner Sunday
Dinner - Monday
Lunch - Tuesday
Dinner - Tuesday
Dinner - Wednesday
Happy Hour drinks - Wednesday
Dinner - Thursday
Dinner Friday
Breakfast - Saturday
Lunch - Saturday
Total:
*Not a common price. This was a rental from a friend. A more reasonable price for this type of condo would be about $300 - 400 per week (when divided between 6 people - price for 3).