---
YOSEMITE TRIP UPDATE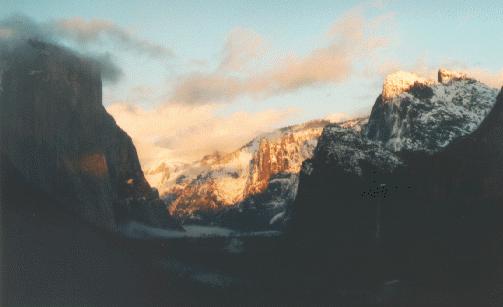 WEBMASTER'S NOTE - Last summer we treated you with a virtual trip to Yosemite and the Gold Country. Now we return for a winter trip in the beautiful countryside of Mariposa and Yosemite:
***To see our full report on Yosemite and the Gold Country (from last summer),click here.***
For updated handicapped access information,click here.

It's February and El Nino has finally hit as advertised. We have recieved over a year's worth of rain in just this one month.
The month has also started off gloomy with two people we know passing on and a million things to do with little time to do them. We're wet...we're depressed...we need a vacation.
Luckily, the second half of the month perks up with Web Jr.'s birthday and our wedding anniversary. To celebrate, we decide to head back up to visit with Jon and Lois Moroni at their great bed and breakfast, the Restful Nest, up in Mariposa.
Are we tempting fate in this extra wet month? The weather reports for the area don't hold a lot of promise as the anticipated President's Day weekend is upon us.
Crossing our fingers, we load up our tire chains, cold weather clothes, and skis and head on up. To tempt fate even further we left at 3:00pm on Friday, February 13th.
The good weather in L.A. held up until we reached the summit of Tejon Pass (the Grapevine) where we promptly hit wind & rain. The rain stayed with us the rest of the way to Mariposa.

---
The Great Tejon Club Jubilee: Stories
---

We stopped for a quick bite to eat at the In & Out in Fresno and to gas up before heading into the hills. Those hills were a gorgeous emerald green. It was not hard to think we had somehow been magically transported over to Ireland. Arrival in Mariposa was at 8:30pm.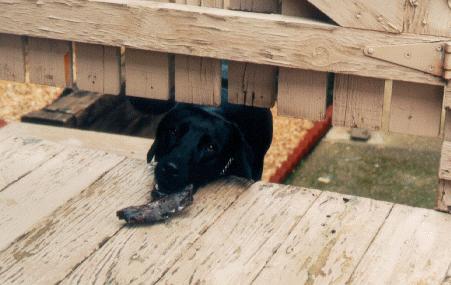 Casey the Wonder Pooch
Jon, Lois, and their black lab Casey greeted us on arrival with a hot bowl of soup and a glass of wine. After exchanging greetings and catching up a little bit from our last trip, we unpacked into our room and went to bed.

Saturday dawned with even more rain. Lois cooked up a superb breakfast that included fresh fruit, bacon, eggs, waffles, muffins, and homemade rolls. This was washed down with some great hot coffee and fresh orange juice.
---
Absolutely Every (Almost) Bed & Breakfast in California: Monterey to San Diego
---
Today, we headed up to Yosemite Valley. It's about 40 miles from the B&B to the valley floor. The rain made even the tiniest of creeks into raging rivers of muddy water. Driving up the Merced River gorge towards Yosemite, we easily saw a hundred waterfalls...literally at each bend in the road.

The level of the river stayed below last year's flood levels. Once in the valley we saw numerous signs pointing out the high point of last year's flood...a level that was at least 3 feet above our heads!
Although it was still raining in Yosemite Valley, there was plenty of snow on the ground. This made for some seriously cold, wet, & slushy conditions. Determined to make the best of it, we drove a loop around the valley before settling down a bit at the store in Yosemite Village.
---
Yosemite & Range of Light
---
From there we took a walk over to Yosemite Falls on one of the few clear paths the wheelchair could take that day. Junior had a ball doing power slides through the patches of snow on the pavement.
Even in this wet and cold weather, Yosemite loses none of its majesty. The falls were spectacular and the walk nice but wet. We came back to the village and decided to do the rest of our sightseeing that day from the comfort of our heated auto. On the way out we pulled over to snap this picture of a coyote walking along the shoulder of the road.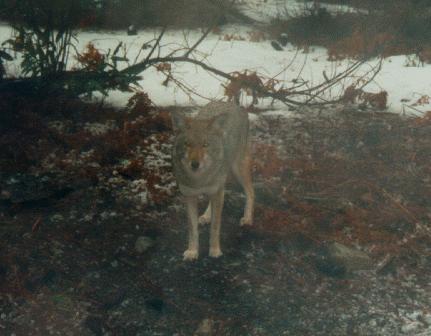 ---
Above Yosemite; A New Collection of Aerial Photographs of Yosemite National Park, California
---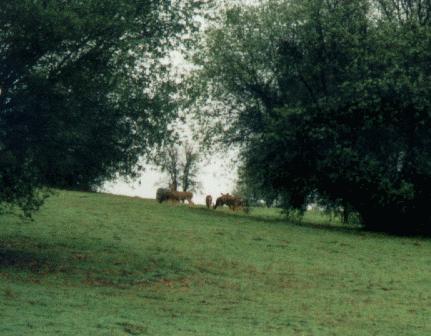 Back in Mariposa, we stumbled onto the neighborhood herd of deer...who graciously posed for the Insider's Guide camera...
That evening...being Valentine's Day...the Moroni's made a sumptious dinner for the inn's guest which had grown to include a race car driver and his wife from Newark, a policeman and his family from Vacaville, and another couple from Mill Valley.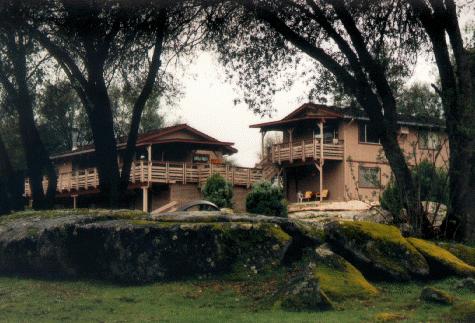 The Restful Nest
Jon served a dinner of homemade French onion soup, salad, and stuffed shells. It was very good and very filling. Certainly we were not going to be losing any weight this weekend.
After dinner, the two couples went to the inn's spa while we family types retired to our rooms to watch videos and the olympics.
After another huge breakfast on Sunday, we headed back up to Yosemite. Today, the weather had cleared and we headed up to Badger Pass for an afternoon of skiing.
Nic Fiore, a young-at-heart 76 year old ski instructor at Badger Pass, had arranged for Junior to spend the afternoon skiing with one of the resort's instructors in a sit-ski. Fiore, who just celebrated his 50th anniversary at the resort, operates one of just 4 complete adaptive ski programs in California here at this little ski area located above the valley floor.

We met Junior's instructor, Jerry, who outfitted him with his equipment and took off with Junior for some serious slope time. This left Mrs. Web & myself with the afternoon to ourselves to explore the slopes of this mountain.

While small...the vertical from top to bottom is a mere 800 feet...the conditions were perfect and the uncrowded slopes gave us a lot of time to explore. The Pass was a comfortable if not exactly challenging place to ski.
---
Cross Country Skiing in Yosemite
---
The only downside to this day was having to put on tire chains to climb up the road to the ski area. Nic & his crew made sure Jr. had the time of his life and in doing so also allowed his mother & I to have a good time as well.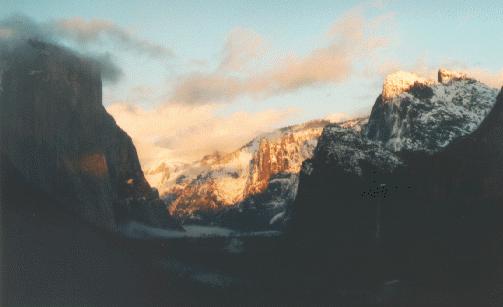 Coming back down to the valley, we stop at Tunnel View to snap this picture of the view that just floored us.
Back down the mountain we went with a stop at the Pizza Factory in Mariposa for dinner. The food was good here but the kid with the ear-piercing scream was a bit much (note to the kid's parents: once maybe an accident and cute but to keep egging the kid on should be cause for criminal action!).



On arrival at the inn, we soaked our weary muscles in the hot spa...sipping a glass of good California Sangiovese while marveling at the millions of stars over our heads.
After sleeping like logs we had one more giant breakfast and spent some time in conversation with Lois while Jr. played fetch with Casey. One more walk down to the inn's pond and one last breath of the fresh mountain air and then time to head home.
Another weekend in God's country leaves us with our spirits healed and ready to face another day of reality.
***To see our full report on Yosemite and the Gold Country (from last summer), click here.***
BUDGET:
Food - Lunch Friday, Snacks Saturday, Dinner Sunday, Lunch Monday
$41.00
Lodging - 3 days at Restful Nest B&B in Mariposa. Included breakfast all 3 days and one dinner.
$247.00
Gas -
$40
Lift Tickets - Included 2 adult half-day passes ($20 each) and one 2 hour adaptive private lesson ($30).
$70.00
TOTAL - $398.00
---